About Us
WHO WE ARE
The Minnesota Humane Society (MHS) is a statewide education, advocacy, and rescue organization dedicated to protecting the lives and interests of Minnesota's animals.

Founded in 1869, it is the oldest humane society in Minnesota. From its early victory in the late 1800's of establishing one of the first laws making cruelty to animals a crime, we have consistently confronted the issues, raised awareness, and taken bold action to make Minnesota a better and more humane place for animals.
MHS extends its care and concern to all animals—both domesticated and wild.
WHAT WE DO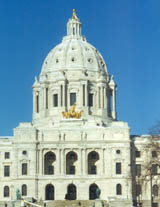 Advocacy:
MHS has taken a leadership role in promoting humane legislation on behalf of both domesticated and wild animals. Each legislative session, MHS works to protect Minnesota's animals. In the late 1800's, MHS was responsible for establishing one of the first laws making cruelty to animals a crime. Recent legislative efforts include working to repeal pound seizure where publicly funded shelters and pounds are required to provide unclaimed dogs and cats for experimental and educational purposes. In addition, MHS has worked to repeal the recently legalized hunting of mourning doves and to prevent the inhumane practice of bear hunting with hounds, in which the dogs frquently tree a frightened bear until the hunter appears. Also, MHS is actively working to pass legislation that would protect dogs, cats, puppies and kittens in Minnesota puppy and kitten mills.


Rescue:
MHS does not maintain a shelter; however we rescue dogs and cats from several area impound facilities. These unclaimed animals would face euthanasia if not for our pound rescue program. All MHS rescues are spayed/neutered, vaccinated, tested for a variety of health conditions and receive any needed medical attention, from deworming to surgery. The rescues then go to a foster home or one of several adoption sites. Interested adopters fill out a detailed application and veterinary references are conducted to help determine if the home is a good match. The goal of MHS is to find a forever home for each of its rescues. Meet some of our pound rescue alumni here.
General Education:
MHS has hosted a booth in the Pet Center at the State Fair since the 1980s. The booth provides information to the public on various animal-related issues. Staffed by volunteers, it is a way to reach many fairgoers who have both general and specific questions pertinent to their companion animals. We also participate in the Twin Cities Pet Expo and a variety of other cat and dog events throughout the year.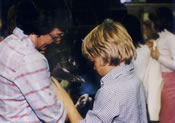 Youth Education:
In classrooms throughout Minnesota, MHS has sponsored KIND NEWS, a monthly publication promoting kindness toward both people and animals, a respect for the environment. Editions appropriate to grade level are published for kindergarten through grade six. Additionally, MHS representatives speak to students in classrooms and youth groups about pet overpopulation, the importance of spaying/neutering and how to responsibly care for companion animals.