Tips for finding your lost dog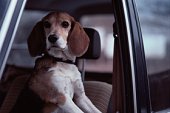 First, look in the immediate area—if you see your dog running, call it by name in a happy tone of voice, while squatting down and holding your arms open. Do not run after it because that may cause the dog to run farther or think that you are playing a game. If your dog likes to ride in the car, open the car door and call for it to go for a ride. Use whatever techniques work best for your dog. If the dog comes to you, praise it for coming to you. Do not scold your dog or it will be afraid to come to you when you call.


If you do not find your dog in the immediate area, report it missing to your local police department, animal control facilities and area humane societies. Give a detailed description of your dog, including its breed or mix, coat type, age, ear and tail characteristics, the sex of your dog, whether or not it has been neutered or spayed, your dog's name, the date and area your dog was last seen, type of collar it was wearing, and any tags it may have on. Also include all identifying marks or characteristics. Dogs can run quite far; so if your dog was lost near a city or county boundary, you will need to file a report with every possible community your dog could be picked up in. Each community has their own animal control. To locate the impound facility for a particular city, click here for a listing of metro area impound facilities and the cities they serve.


Call all facilities on a daily basis and visit them in person at least every three days until you find your dog. State law requires that strays be kept for only 5 days before they are sold for research, euthanized, or placed for adoption. Going in person to the facilities avoids mistakes that can be made over the phone. When checking at Humane Societies, ask a staff person to take you back to the holding area where the stray animals are kept.


Make up flyers with a photograph of your dog, and include the same information you gave when filling out the lost animal report with humane societies and impound facilities. Be sure to include a telephone number where you can be reached that has voice mail and program your outgoing message to let people know they have the correct number, and to leave any information they have regarding your dog.


Display the flyers any and everywhere possible—on traffic poles, at bus stops, grocery stores, community centers, gas stations, coffee shops and veterinary clinics within at least a 2-mile or a 20-block radius of where your dog was last seen. Also send flyers to all vet clinics within a 60-mile radius. Offering a reward is a good idea because it becomes an incentive for others to be on the lookout for your dog. The more people who see your flyer, the better chance your dog will be found.


Walk or drive through your neighborhood as many times as your schedule will allow each day; talk to and hand out a flyer to all your neighbors, mail carriers, delivery people, or any one else you happen to see.


Place an ad in your city and local newspaper. Again be sure to give an accurate description including the area and the date your animal was last seen.


Lastly, do not give up your search. Animals who have been lost for months have been returned to their homes. When you do find your dog, consider having it micro-chipped. Microchips can be implanted in animals by veterinarians, and contain owner information. All impound facilities, humane societies and veterinary clinics are able to read microchips. Those animals with a microchip are returned to their owners much quicker than those without.
---

Please donate online today. Your donation will help us save more lives!